How to Backup and Restore data using iPod (For Mac Users)
It's important to learn on how to backup/restore data using your iPod. Most of us are unaware that our iPods are nothing more than an external hard drives and they can be used to store data of any kind. When Hard drive is on the verge of crashing at that time we have to reformat our disk. In this case you may lose your important Data unless you backup it. If you have your iPod handy, you can use it to backup your data and restore it again.
For iPod Data Backup (Mac User)
Following these simple steps can help you to backup/restore the data. It requires a computer, iPod, and a connector cable of iPod. No additional software or online data backup is required to create a backup in iPod.
To use iPod as an external drive, make sure that your ipod drive is 'Enabled'.
1. Plug in iPod and Enable disk use.
Open iTunes >> Preferences >> select iPod tab.
Now select check box – Enable disk use as shown in the image below.

Now, Click OK to continue. To make the iPod an external drive, click OK again. Doing this will not affect your movies, photos or music in any way.

On your desktop, you can see iPod icon below the Macintosh HD.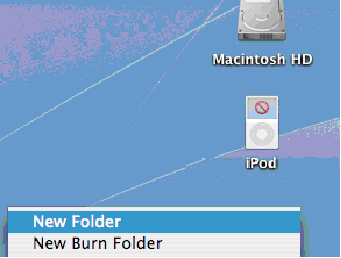 2. Right click on the desktop to create a new folder. Copy the files and folders into it that you want to backup.
3. Make a copy of the folder to the iPod drive.
It's as simple as click and drag. Just drop the folder in the iPod's home directory. You can see a small window with a progressing display.  
4. Eject the iPod.
To eject the ipod properly, drag the iPod to the Trash. Simply unplugging the iPod can damage iPod drive and data.  
Advertisement
How to Restore Data from iPod
After repairing your hard drive or hardware, Plug the iPod back in and double click on its icon on the desktop. A Finder window will open and you will see a new folder which you have created at the time of creating backup. Click and drag it to the desktop to copy the files to your computer to restore your data.
Using iPod is the simplest way to backup your data, without using any additional drives or software.