How to backup System State data?
Backing up your data is one of the most important things that you do in your office or at home. You won't miss something until it is gone. If you don't want to spend your precious time in redoing things then make sure you backup your data in time. There are few simple steps to backup your System State Data. Using these steps you can create a backup file for critical system related components. In case of crash, this back up file can help you to recover the critical system components.  
Prior to performing System State Data backup operation, you need to ensure the following things,
You can only back up the System State data on a local computer and not on a remote computer.

You must have administrator or a backup operator log-in to back up files and folders.

 
There are different ways to backup system state data; most common ways are Command Prompt and Windows Interface.
How to backup using Command Prompt 
Click Start; go to All Programs >> Accessories >> Command Prompt. Alternate way is to click Start >> run menu, type: cmd; it takes to you on command prompt.
In command prompt type: ntbackup backup systemstate/J "Job" /F "D:\name.bkf".
For viewing all the probable syntax, type: ntbackup /? This command is followed by several parameters. Here systemstate defines that you want to back up the system state data, after selection of system state value option, back up will be imposed to copy of your selection.
How to backup using Windows Interface  
To open Backup Wizard, click Start Menu >> All Programs >> Accessories >> System Tools, nowclick on Backup Option. It will take you to the Backup or Restore Wizard, select switch to the Advanced Mode.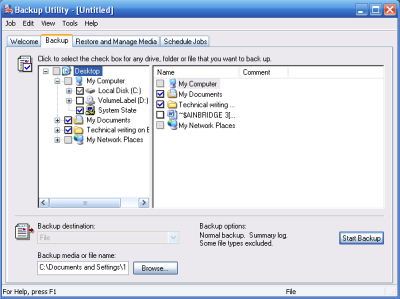 As shown in the screenshot click the Backup tab from the Backup Utility Wizard, select the System State check box, and then opt for the check box for Disk Partition or Drive, folder or file you want to back up. Now click Start Backup button, this will start to backup the System State data along with any other data that you have selected.
You should always keep current, reliable backup copies of your System State data. Performing this task on a regular basis can help you in saving your time and data in case of system failure.