Symantec Backup Exec: Latest Backup Weapon from Stable of Symantec
Symantec is known for its products for data security. Symantec Backup Exec is software from Symantec specially designed for taking data backup for servers. This software is the standalone software available for recovering Windows. This software has simplified the bare metal restoring of Windows servers and workstation. The only step involved is you have to only boot the recovery CD and do the installation from recovery point. Restoring to different hardware and servers is also possible. 
System Requirements
OS requirement

: Windows Small Business Server R2,

Windows Small Business Server 2003 (with SP1),

Windows Small Business Server 2000 (with SP4), 

Windows XP Professional x64 Edition, Windows XP (with SP2), Windows Server 2008, Windows Storage Server 2003 (with SP1), Windows Server 2003 x64 Editions, Windows Server 2003,

 Microsoft Windows 2000 Server (with SP4 and Update Rollup 1 for SP4).

Client Support

: Microsoft Windows Vista,

Microsoft Windows XP,

Microsoft Windows 2000 Professional

Internet Browser:

IE 6.0 or Later.

Processor:

AMD, XEON, PENTIUM, or compatible.

RAM:

256 MB (Recommended: 512 MB)

Hard Drive :

696 MB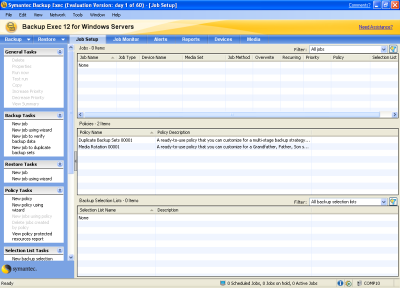 Image1 Opening Window
Features

Provides protection for all the data in Windows based server environment.

Supports much product integration for all the new technologies which lead the market.

Has Granular Recovery Technology (patent pending) using which recovery of critical data can be done in seconds.

Backup window process is eliminated as the data is protected continuously as the data changes.

It can recover MS WIN SERVER 2008 along with the certification.

Backup Exec Agent in Enterprise vault can take the backup of important data archives very easily and also they are recoverable.

The online storage from Symantec provides us with east to manage, economical and secure offsite storing of data.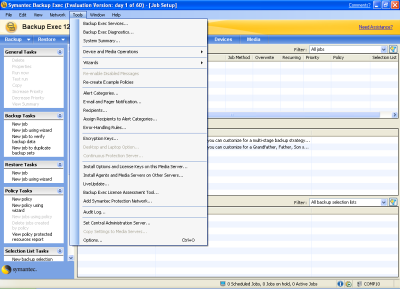 Image.2 Available Tools in Symantec Backup Exec

Software Review
Bare Metal Restore are the three words in field of servers listening which many system administrators throw there hands up in air and runs for hills. We know that re-installing the OS takes hours. And just single mistake can run the process into trouble. Then you have to again restore all the software's on the same platform of hardware.
In day today's backup application like NetBackup, EMC's Retrospect, etc.can restore the lost file easily but this are not the recommended tools for restoration of server or any PC system. 
Symantec's Backup Exec System Recovery 12 is the perfect tool and the only product used for recovering Windows system. We can too purchase this product along with other Backup Exec Suite tools. 
It's a true fact that OS are always prone to failures and restore of this systems are not always successful. Symantec's Backup Exec is more polished software than its competitors such as Acronis True Image; this software lacks restoration of web based files. 
This version provides support for x64 platforms, VISTA, MS Virtual Servers. It also comes with facility to manage multi servers from one single location.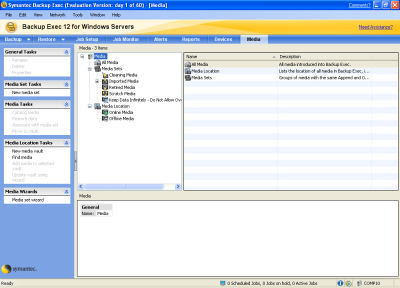 Image 3 Available Media Option for taking Backup
Symantec Backup Exec is just like magic box just put a hand in it with a wish and the required feature comes out. So don't loose a chance and time just down load the software from the link provided.