How to backup Google Chrome
Google Chrome is a new web browser developed by Google. Its interface is very clean and simple but it runs very fast. Google Chrome Backup is a small utility for backing up Chrome's profiles. A profile contains the bookmarks, history, passwords and your own settings. If you want to reinstall the operating system but you don't want to lose your Chrome information, you should backup the profile in advance.
The interface of Google Chrome Backup is like Google Chrome browser, clean and simple:
Google Chrome Backup
How to Use Google Chrome Backup
Google Chrome Backup provides a wizard for backing up and restoring. With its help, work can be done easily.
Backup a profile
Step 1. After the Google Chrome Backup launch, click "Run Wizard" to start its wizard. It will ask you to choose "backup" or "restore". Now choose "backup" and click "Next" to continue.
Step 2. Choose a profile to backup. If you can't understand why there is many profiles, I recommand to choose the first option "backup default profile". This profiles was created by Chrome when it launched at first time. Also, if you have more than one profiles, please choose the second option and choose the profile name that you want to backup.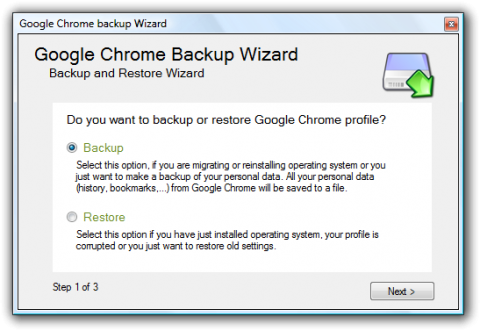 Google Chrome Backup
Step 3. Set the backup path. Click the "browse" button to set the backup directory and the file name. And then click "backup" to start the backup process.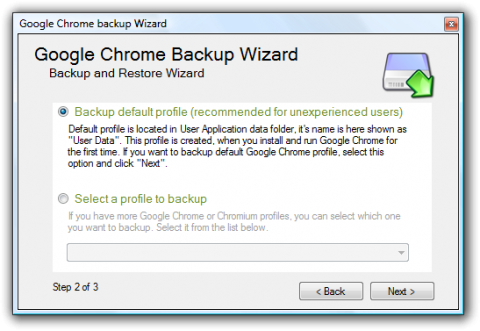 Google Chrome Backup
Restore a profile
The wizard can also restore a profile to Google Chrome. It is much similiar to the backup process except at the first step you should choose "restore" instead of "backup". At the second step, choose the backup file. Next choose a profile that your want to restore to. "Restore to default profile" is recommended. But if you have more than one profiles, you can choose a profile as the restore target. At the last step, click "restore" to start restoring process.
Download links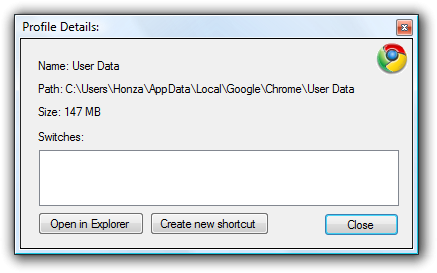 Google Chrome Backup