How to backup Thunderbird with Mozbackup
Thunderbird is an E-mail client developed by Mozilla Foundation. You can receive, send, manage you mails with it. Also, it contains address book and supports extension, like Firefox. Since E-mail important for some people, backing up Thunderbird's data in time is a good habit.
What is Mozbackup?
Mozbackup is a small utility for backing up the profiles of Thunderbird, Firefox, Seamonkey, etc. The profile means your data in the software. For example, your Thunderbird profile may contain E-mails, address books and account settings. Mozbackup provides a wizard to make backing up and restoring very easy.
Backing up Thunderbird with Mozbackup
Step 1. First, you need to download and install Mozbackup. The installer will create icons on the Program menu and the desktop. To start to back up, double click its icon and a wizard window will appear. Then click the "Next" button to choose what you want to back up.
Step 2. Select "Backup a profile" option and "Mozilla Thunderbird 2.0.0.16" to back up Thunderbird profiles. Click "Next".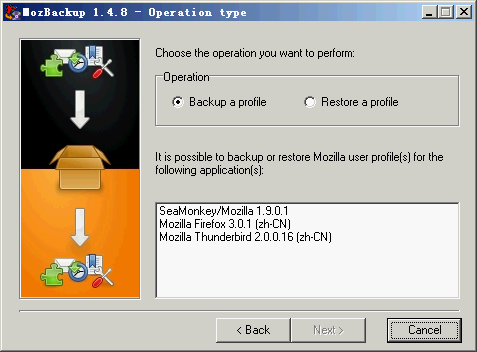 Mozbackup
Step 3. Choose the profile you want to back up and the location of the backup file. Since I have only one Thunderbird profile, it is called "default". Select it and set the location. The default location is C:\Documents and settings\username\My Documents. You can change it here. Click "Next".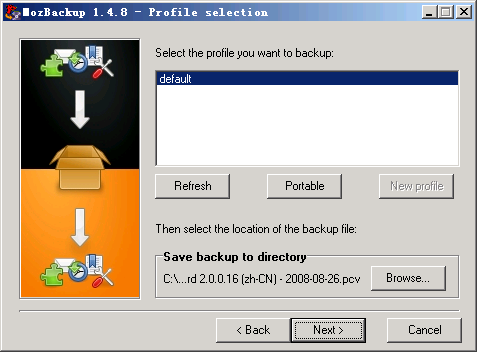 Mozbackup
Step 4. A message box popups to ask whether you need to set password for the backup or not. If you don't want others to restore your data, choose "Yes" and enter your password.

Mozbackup
Step 5. Choose what you want to back up. Since I chose "Thunderbird" in Step 2, some options are disabled and others are selected by default. After you make a decision, click "Next" to start backing up.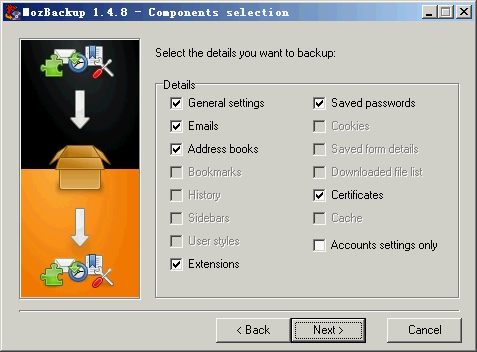 Mozbackup
After that you will get a PCV file. Please put it in a safe place.
Restoring Thunderbird profile
The restoring procedure is much similar to backing up except for Step 2. You should select "Restore a profile" instead of "Backup a profile". After restoring, your current profile will be overwritten. So be careful.