How to backup Flickr Photos with FlickrEdit 1.1
FlickrEdit 1.1 is an open source Java desktop application and allows you to download/upload or backup the pictures to your disk drive from flickr. FlickrEdit has now totally replaced FlickrBackup. FlickrEdit 1.1 carries new features including the long requested feature for backing up title, tags, photos description and keeps them secure in the IPTC Headers. FlickrEdit supports for Flickr RSS feeds and basic html editing toolbar to comments editor and, support for mark photos as favorites.
FlickrEdit 1.1 Requirement
User registration with Flickr or Yahoo!
Java Web Start Application must be installed prior to run FlickrEdit Backup application.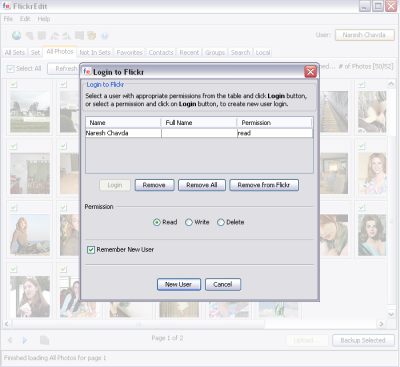 Image 1 – Login to Flickr
How to backup your photos using FlickrEdit?
Backup Selection
Opening window will ask you for the login into your account. After successful login, FlickrEdit window automatically download all your photographs that you have uploaded to Flickr. Select the photos that you want to backup to your disk drive.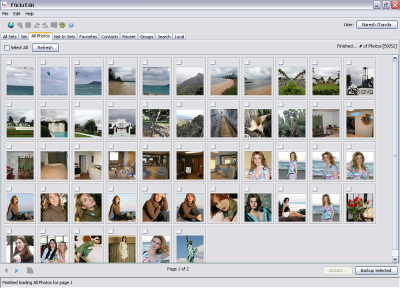 Image 2: Main Windows and Backup Selection Option
Backup Option
After selecting Backup Selected option in main windows. Download Dialog or FlickrEdit Backup wizard pops up where you choose where to download your photos to, compression, etc. to backup media for your pictures backup (Refer Image 3). Press Start Backup to continue with backup procedures.
Image 3: Backup Option 
Progressing Window will pop up and showing entire backup progress (Refer Image 4).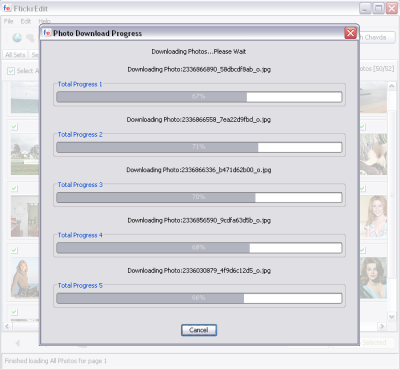 Image 4: Photos download progress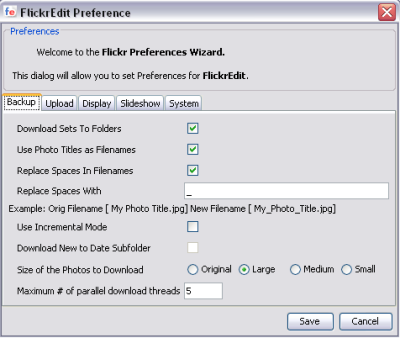 Image 5- FlickrEdit Preferences
Image 6 displays the EXIF data of your photos!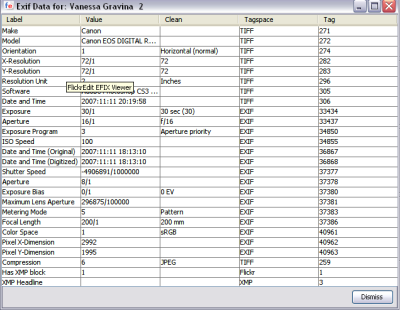 Image 6: EXIF Viewer
How to Restore with FlickrEdit
Restoration process is as simple as backup or uploading photos back to Flickr. It automatically detects title, tags, description, set, batch etc. to your flickr account.
The IPTC error of FlickrBackup was fixed into this FlickrEdit 1.1 version. On Mac OS X, Backing up individually works but not possible for a few hundred photos, if you try to backup a number of pictures then only the last photo will have the full tag backup information.