Microsoft Office Live Workspace: Your Online Office
Microsoft has just made Microsoft Office Live Workspace available for the users. This application is free internet based extension to MS Office. Using this application you can access your document online and you can also share the work with other users. This application was launched in competition for Google Docs. But still it is in its Beta phase, and will have to go miles to get compared with Google Docs which has created its solid identity in online office suites.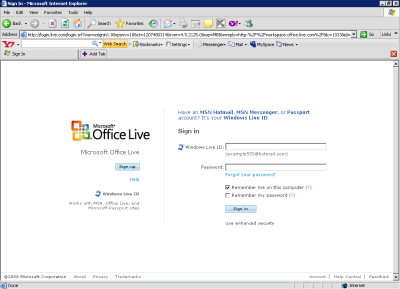 Image.1 Login Page
System Requirements for Microsoft Office Live Workspace
For speedy use Hi Speed Broad Band Connection is must.
Internet Explorer 5.5 and above (If you want to use Batch Upload Feature)
IBM or PENTIUM compatible PC
Features of Microsoft Office Live Workspace
Provides 500 MB work space.
Upload all types of files.
You can work on large individual files, as large as 25 MB.
Sharing of Workspace and documents with other users is possible.
Older version is also kept in track.
If you are using IE then you can use the batch upload feature.
Direct link is offered for book marking our workspace or item from the workspace.
Supports folder operation.
You can also give comments to the files.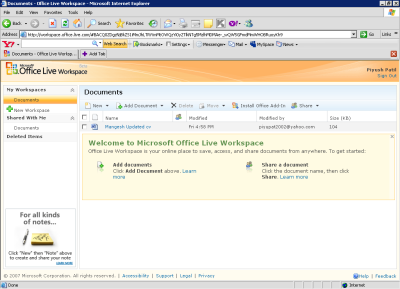 Image.2 Opening Space
Microsoft Office Live Workspace Review
From the name you might feel that Microsoft Office Live Workspace is the online version of Outlook, Word, Excel, and PowerPoint. But it is not so, instead this utility provides us business with 10 people in staff and also some tools to using which we can host and build a website, share our project and manage our contacts. This utility is available free and the basic services include provision of company or organization with its domain name, onsite traffic, web design tools, registration, hosting and Email. Using this utility Microsoft has future plans to dominate large market share of small scale business which are is search of developing there WEB presence.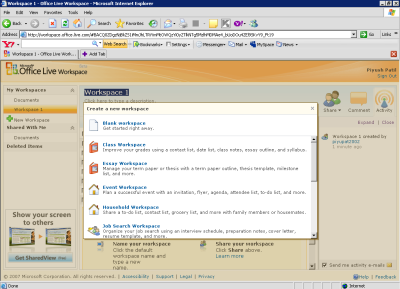 Image.3 Available Types of Workspace
Compared to Google Apps, if compared with this application do not offers free space for the website we created. This utility does not provide word processor which is internet based and also spread sheet application is absent. Microsoft Office Live Workspace comes in three types: Basic (Available Free), Essentials, and Premium ( $19.95/ month). If we pay $39.95/ month available work space is doubled. 
If we want to access this application each time we have to enter our user name and password, this is a kind of drawback present. But from security point of view it is quiet secure. The interface provided is juts the traditional interface of MS Outlook which is two panes based.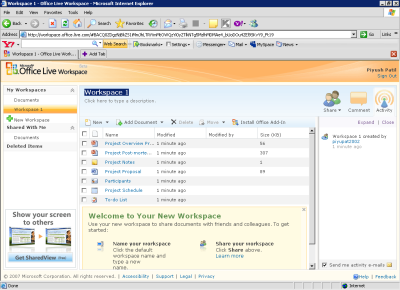 Image.4 Project Workspace
So try the Beta version available, and feel the Microsoft Magic. You can follow the link provided Microsoft Office Live Workspace.