NTI BackupNow for Windows XP/Vista
soumax on December 25, 2007 - 15:36
Effective and efficient backup software compatible with Windows Operating System is NTI BackupNow. This software is incorporated with loads of practical and functional features that can save backups to multiple drives as well as different network drives. NTI BackupNow software also provides free technical support which means that a user can always be able to receive help at any point in time if he or she experiences any kinds of conflicts or issues. It offers a total backup delivery solution serving any types of need and requirements.
User interface
The user interface of NTI BackupNow for Windows XP and Vista is very user friendly and self explanatory. It is particularly easy for beginners who wish to back their important files and information.
How to use NTI Backup Now? 
Following are some of the steps that can easily guide the user to back up their files and folders across a remote network or a stand-alone machine.
Install the NTI BackupNow software in the system. Once installed, double-click on the software icon to launch the user interface of backup. Once the software interface appears, the user will see the main program window.
On the most left navigation menu, the interface will provide the user with four Easy Steps. There are three backup options on the top navigation menu of the NTI Backup Now interface.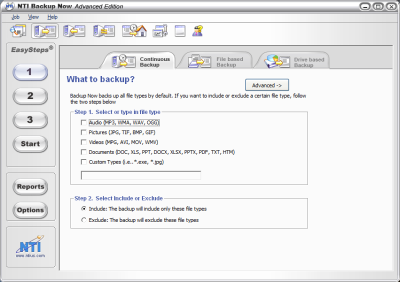 In the option of What to Backup, click on the checkbox select files or folders to backup. Then you need to select the particular file or folder that you want to backup. 
Click on the mouse button to Step 2. In the option Where to Backup select the appropriate location. You need to provide a name under the option of Backup file name. You need to select the appropriate speed from the drop down selection menu of the Speed option. By default, in the Write Method option, Track at Once will be checked. In case of network backup, please check on the Packet Writing option.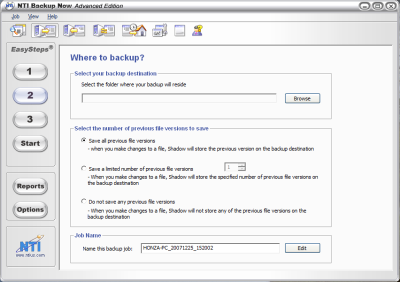 Once the above steps are complete, click on the option of Start to back up the files. You can also schedule your backup files by clicking on Schedule.
The above steps are so easy and convenient that any one working on a computer or a laptop can easily perform these steps and stay secure.