Backup Email Data With Adolix Email Backup
Adolix Email Backup is powerful software to backup your email data. If you are using Incredimail, Eudora, Outlook Express and MS Outlook, it helps you to backup your email data like inbox messages, other mail folders, accounts settings, signatures, message rules, contacts, tasks and many more. The wizard style of this software is perfect for both beginners and professional users. With the help of scheduler functionality, that allows users to select what email client to backup and has an option to select and save the components of email client.  
To download this shareware application, click on the link www.adolix.com/outlook-express-backup and the freeware version will run for the period of 15 days. 
Adolix Email Backup Features
You can backup and restore using any MS windows OS with the same email client. Adolix Email Backup supports with the most popular email clients and can backup to a remote FTP server. Users can protect their file by password and 128 bits encryption, favorites and bookmarks can be saved for Internet Explorer and FireFox, different kind of the language selection option.  
How to start Email backup 
First of all, you need to run the Adolix Application on your system. Double click on the desktop icon to run this application and after the application starts, click on the backup link to begin with your backup procesure.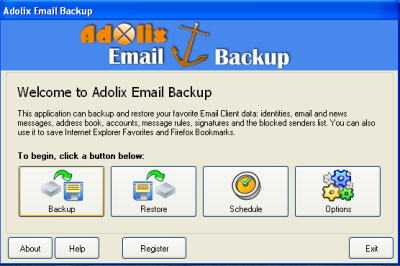 Figure 1: Welcome Screen
Now Select your email client to backup your entire email data and press Next button to proceed further with backup operation.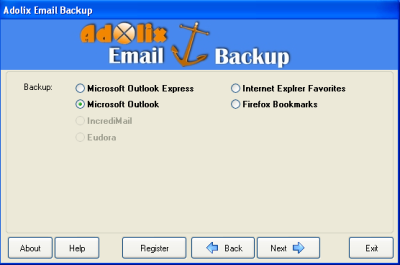 Figure 2: Email Client Selection windows
Choose the items of the Email that you want to backup, Press Next to select the backup file name. If you want to upload your files to FTP server, Configuere your FTP connect by using Configure FTP connection button. Everything is saved to archive file which can be protected by password. You are ready to start with backup now. Click on the start button and wait for few minutes to complete entire task and this depends upon your volume of the email data backup.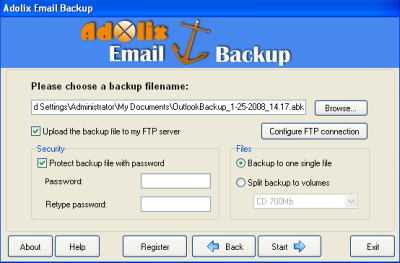 Figure 3: backup configure action 
How to Restore E-Mail Data
To restore, simply run this application to restore your important E-mail data from your previous backup files. Click on the restore link as shown in the figure 1. Select files you would like to restore, click the Restore Now button. Progressing windows will be displayed immediately to restore your Email data and wait until the procedure is completed.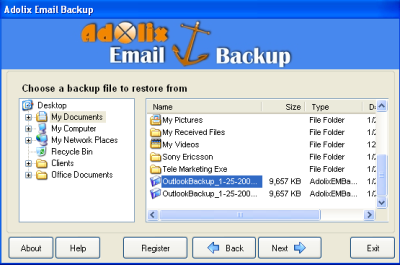 Figure 4: Restore action - Select backup files to restore
Backing up and restoring Email is easier, faster with the wizard style of this software. In case of loss of data due to disk failure, it helps the users to recover all the important email data back to the email client.