Backup with Back2zip
Back2zip is quick and very effective backup solution to provide duplicate or backup of your critical data. Back2zip apply the most powerful ZIP-64 technologies to constantly check your critical data files for changes and keep them backed-up while you are working. This allows users to backup important data by simply adding files or folders to a backup list and choosing a desired location to store backup files. This application doesn't install any other software or .dll files to your system. Back2zip is completely free with shareware or no spyware.  
To download this freeware software click on this link Download Back2zip.
How to backup files?
After downloading this freeware application, select the installation package to install on your system. Wait few seconds to complete its installation process. 
Click on the application icon to start backup procedure. 
Step 1
Select Add Folder option in backup tab to backup your important data files or folder from your system. You can simply drag as many folders as you want from Windows Explorer and drop them into backup list.
Step 2
Select Folder to select desired location where Back2zip will store the ZIP backup files. User can select the destination folder on an external hard drive or on another computer at your home or office network.
Step 3
Select backup now button to protect your data. By default, this tool will check your critical files or folders every 20 minutes to make sure your data is properly backed up.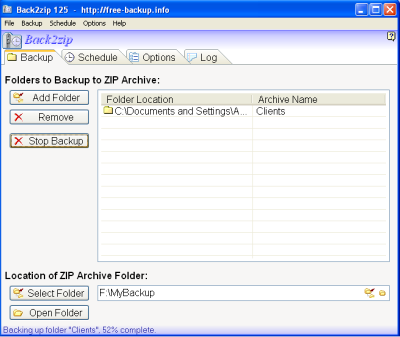 Figure 1: Backup progress windows
Back2zip makes updates that backup every 20 minutes or every 6 hours and every day a backup as per the scheduler. In that update you find every changed file and every new file during that day. After working with this simple backup program, users don't want another backup program anymore.
Click on the Options tab, you can adjust archive compression type or even use Don't ZIP, Just make a copy of folders (fast) to keep duplicate of each and every items. Back2zip will keep Archive daily copies for up to 14 days; this option will help you to retrieve your lost files.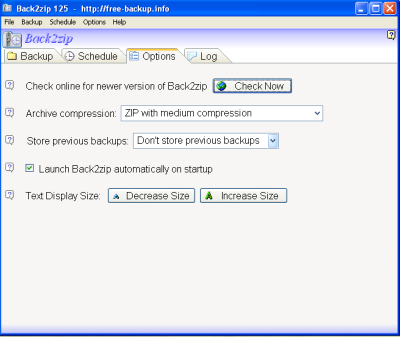 Figure 2: Backup Option Selection Window
Click on the Schedule tab, back2zip will update your backup files automatically as per hours selected by users (Refer image 3).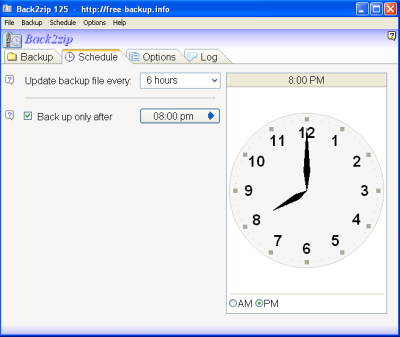 Figure 3: Schedule Selection Window 
How to restore files?
Restoration process is totally different from other backup tools, just copy and paste backup files to original or your desired location.
No maintenance required - just set it up and forget about it and your data is secure!