Backup4All Professional 4.3: backup solution for beginners
Are you looking for powerful yet easy to use backup application which works at files and folders basis? So you can try the Backup4All. It offers files and folders backup. You can use other folders, external drives, CD, DVD, Blu-ray, network, FTP or SFTP servers as storage for your backup. You will like its plugins philosophy saving you time and doesn't require advanced knowledge.
The complete copy of your hard drive gives you a sureness that all your files will be kept in a backup storage for the case any problem with your computer occurs. If you are using Windows 7 or Vista, you can use the system tools to create the system image of Windows 7 installation. But if you would like to work with individual files and backup them separately, then third party backup programs are better solution.
Backup4All is one of such backup applications. It offers easy to use interface suitable for beginners and advanced users too. You can save your backup to external drives, to the network or to the internet location using the FTP or secure SFTP connection. Moreover, you can test if your backup is consistent after it is done.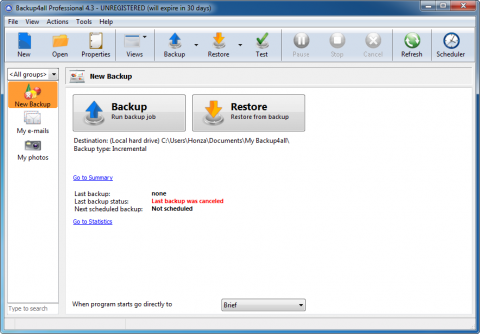 Backup4all Professional 4.3
Backup tutorials
When you start Backup4All, you will see welcome window with many useful links to backup tutorials. Since Backup4All work with files and folders, it is very suitable for Outlook backup, Outlook Express backup, restoring individual files and more.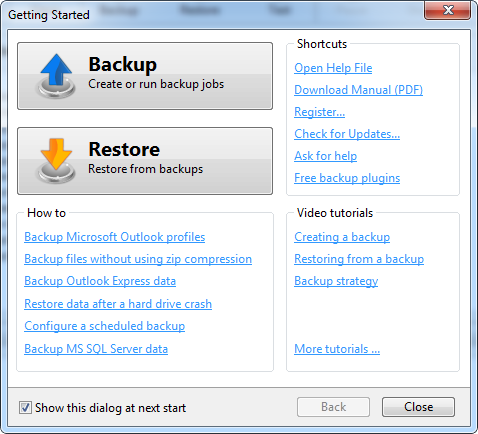 Backup4all Professional 4.3
Using the links in the welcome (or Getting Started to be more precious) window you will open your web browser with detailed tutorials. They include not only the backup sources, but complete tutorials how to work with Backup4All.
Creating a backup with Backup4All
Click the New button in Backup4All toolbar. The New Backup Wizard will pop up. You can go through it, set up the backup name, the backup destination (local, network, ftp, sftp) and the folder. In the next step, you will add the files and folders to this backup task. You can also specify the filers for excluding some content from the backup.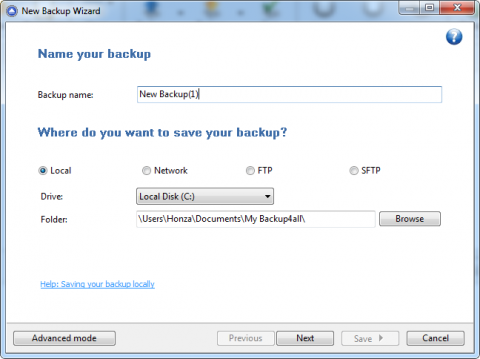 Backup4all Professional 4.3
In the next step, select form full, differential, incremental or mirror backup methods, enable the encryption if needed and schedule the backup plan. Of course, you can set the backup to be run manually.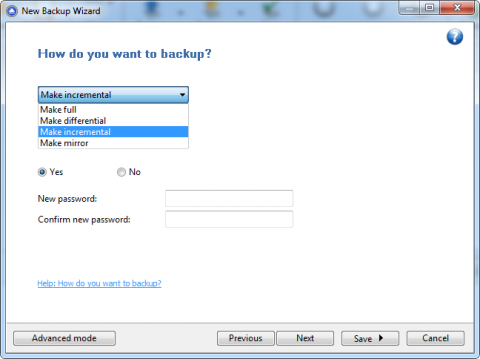 Backup4all Professional 4.3
The backup could be set up using the Advanced window also. You can switch to it from the first page of the New Backup Wizard. This window called as Backup Properties also displays when you double click the existing backup task. It will give you a little bit more options for your backup.
As you will see, you can use the Backup4All to backup to the external hard drives or to burn your backup to the CD, DVD or Blu-ray discs. And of course, there are the features like disc spanning, copying to the network with different usernames and more. You can decide if you will burn using the Backup4All built-in driver or if you will use a third party packet writing software.
What I find very powerful are the filters. As I mentioned above, you can set them up using the wizard. But in the advanced mode you have more options. The filters could be setted up as included or excluded filters. You can filter with file names, file attributes, file dates or file sizes: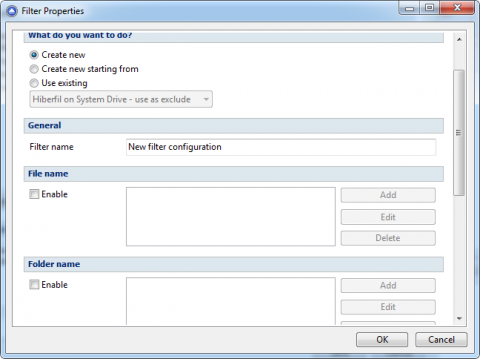 Backup4all Professional 4.3
Did you find the encryption options in the wizard not enough? Then again – go to the advanced mode and click the Compression section. Backup4All offers here some options for ZIP compression and several methods of backup encryption – standard encryption compatible with Zip2 or strong encryptions using the 128, 192 and 256 bit AES. The backup archives could be splitted to automatic or predefined sizes.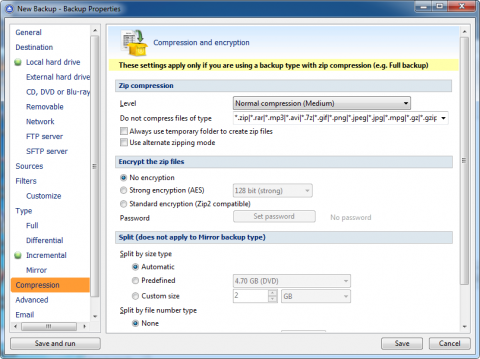 Backup4all Professional 4.3
Each backup task could be scheduled and could send you an e-mail after it is done. Restoration of backups created with Backup4All is easy. Just select the backup task from the group on the left and click the Restore button in the main window.
How to backup favorite applications data and settings
The Backup4All is extensible via plugins. You will find their list using the Tools | Plugins menu. Plugins support means you can have some time savers and helpers when need to backup data or settings from particular applications. Backup4All 4.3 comes with these backup plugins by default:
Internet Explorer Favorites
Microsoft Outlook
Mozilla Firefox Profiles
Mozilla Thunderbird
My Documents
My Pictures
Outlook Express
Windows Mail
How to use these backup plugins? As I mentioned, they are very helpful for the beginners and as the timesavers for advanced users. Just click the New button to create a new backup task. Switch to Advanced mode (not needed) and click the Sources section. You will see a listbox with Selection of files and folders value by default. Click the list and select from another options.
As you will see, there are all the enabled plugins listed. So this means you can very quickly prepare the backup of Internet Explorer favorites for example. Don't worry you don't know where they are stored in your computer. Backup4All will manage it.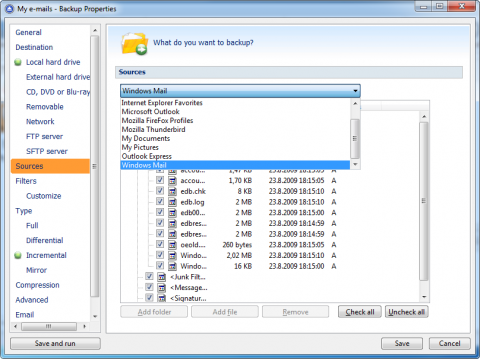 Backup4all Professional 4.3
Where to download Backup4All 4.3
Backup4All 4.3 is very precious backup software. I like its filters and concept of different plugins. And I think the beginners will like it too. However as a website developer I am missing the feature for backing up using the FTP/SFTP as the source. Backup4All 4.3 is able to upload the backup to FTP/SFTP but it is unable to download files from these sources. Maybe in the next version…
Backup4All 4.3 can be downloaded from its homepage at www.backup4all.com. Don't forget it is a shareware, so you have to pay for it after you will try it. The Backup4All 4.3 is also available in portable version.