CopyTrans TuneSwift: How to transfer iTunes from one PC to another PC or Mac
If you have ever moved your data from one computer to another, you surely know what it is about. It is about many hours of the hard work. I'm sure you will love the tools that can help with this. One of them is a new CopyTrans TuneSwift which can be used as a migration or a backup assistant for your whole iTunes library.
CopyTrans TuneSwift is a small nice application which helps you with copying the iTunes library. Is has an easy to use user interface, where you will find three buttons after the app starts.
The first button starts the Transfer wizard for your iTunes library. The second button starts the Backup wizard and the third button starts the Restore process.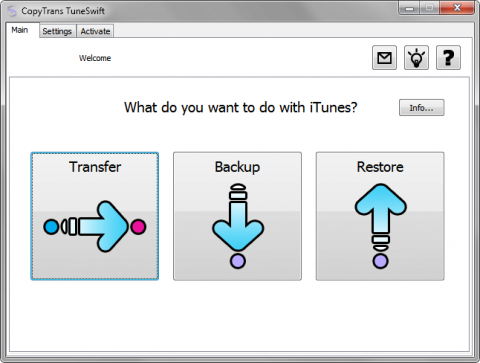 CopyTrans TuneSwift
Each task has a wizard which will guide you through the whole process. For example, the Transferring of the iTunes library gives you two options where you would like to move your iTunes (Windows or Mac OS X). For the Windows case, you can use the folder in your PC or an external drive, for the Mac OS X case, you have to choose the external drive and one of its folders.
The Windows transfer creates a copy of all files in your iTunes library to the destination folder. The Mac OS X transfer will create one big file with iTunes library backup. During the process you will see a progress window.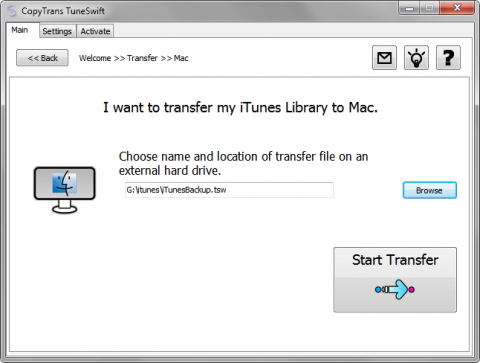 CopyTrans TuneSwift
The backup process of the iTunes library is very similar to the Mac OS X transferring. It will create one big file and you can also restore it with the third button in the main window of CopyTrans TuneSwift.
Working with this app is very easy, as I already mentioned. What is great, CopyTrans TuneSwift is available for free until March 15th, 2011. All you have to do for a free version is to use the activation code: TUNESWIFT-ACTI-VATE-ME.
You can download the CopyTrans TuneSwift from it homepage running at www.copytrans.net/copytranstuneswift.php. It is available with an installer or as a ZIP file which contains application ready to run without installation.