CopyTrans Manager: first free iTunes compatible with iOS 5 and iPhone 4S
If you are regular reader of Backup HowTo, you surely know the CopyTrans Manager, the freeware alternative to iTunes. Now, there is a good news for users who upgraded to iOS 5 or just buying the new iPhone 4S. CopyTrans Manager is now compatible with them.
When you have the iPhone, iPod Touch or iPad, you have to synchronize your data with the iTunes software coming directly from the Apple. This can be boring and not so perfect for users who don't want to create large library on their disk and duplicate the files in fact.
The CopyTrans Manager comes with solution. Using it you can drop your files to the iPhone, iPod Touch or the iPad directly from your file browser. You can also create playlists, edit tracks information or import artworks.
This works in both directions so you can use the CopyTrans Manager to backup your iPhone or iPad too.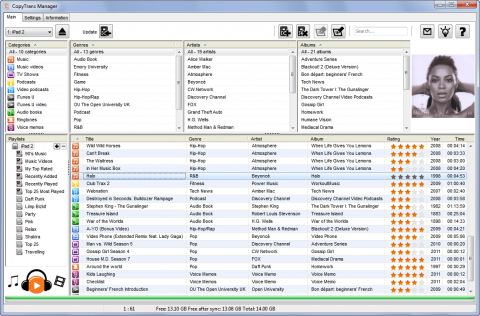 CopyTrans Manager
More information can be found in our older article Free iTunes alternative? Try CopyTrans Manager and of course on that software's website www.copytrans.net/copytransmanager.php.