GFI Backup Home Edition – What To Expect
Decent freeware backup software is hard to come by, especially if you expect it to do a little more than just backup one file or to. However, if what you're looking for is a tool that will aid a home user in his backup procedures then you might be pleased to know that GFI Backup Freeware (or Home Edition) does its job quite nicely.
It provides a decent combination of a user-friendly interface and a number of advanced options that will make any home user comfortable with the control. Or that's how it used to be.
The problem is, with its latest version GFI Backup has been coded from scratch, this means that a lot has changed, starting with the backup option itself.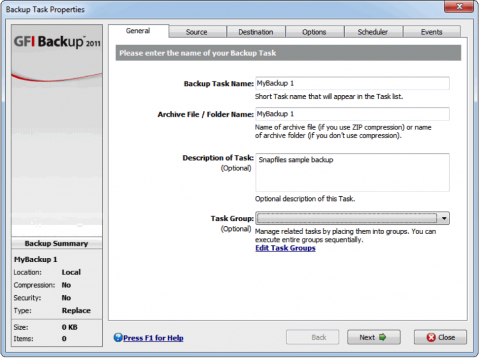 GFI Backup Home Edition
Backup with GFI Backup Home Edition for free
If up to this point, the Freeware version of GFI Backup provided a certain amount of options with its file-based back-up tool, now most older users will notice a significant decrease in options.
While you can still back-up individual files or add different folders to your backup procedures you can no longer backup applications or emails. And let's face it, most of us would like to have a backup option for our emailing system or at least the Registry system.
The good news is that even after this whole reworking of the entire program, the application still provides an intuitive user interface, one that will be comfortable for any user regardless of their backup knowledge level.
The main problem with the application remains the fact that they made it obvious that this is a Freeware version, and if you want more out of it, you should simply upgrade to a commercial version.
Download: GFI Backup Freeware.