How To Backup Messenger Data
Many times we are concerned on how to backup a copy of our messages and messenger's contact list. It is always better to have a back of our messenger data. It's very simple to have backup of our messenger's data. You can back up messenger data manually by adopting the following steps.
Backup Procedure
Your messenger data is mostly stored in the folder where your messenger has been installed or in subfolders of your user profile folder; you may search your messenger data at the following locations:
C:\Program Files\ or C:\Documents and Settings\admin or User Name\
Follow these steps to export the files of MSN (for Example)
Click start and go to Run

 
Type regedit, then press Enter key your Registry Editor Windows will open.

Locate Key into Registry Editor:

'HKEY_LOCAL_MACHINE\Software\Microsoft\MessengerService\'

Now right click on the MessengerService, Select Export option and save the file to your

desired location (MSN.reg refer the figure below).
ICQ, AOL and Yahoo messengers have their settings at the following registry paths:
For ICQ
HKEY_CURRENT_USER\Software\Mirabilis\ICQ\DefaultPrefs\   
For America Online (AOL)
HKEY_CURRENT_USER\Software\America Online\AOL Instant Messenger (TM)\  
For Yahoo Messenger
HKEY_CURRENT_USER\Software\Yahoo\Pager\Test\ 
You can backup the setting as describe above into MSN Messenger, you need to change the registry path as per the Messenger you are using.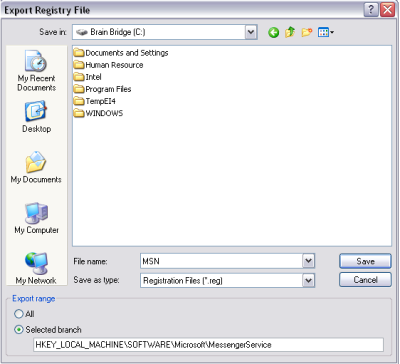 How to Restore
While restoring simply double click the *.reg file which you have stored while taking the backup, it will automatically restore your data into windows registry.
This backup procedure will help you to manually backup and restore all your messenger data.