How to backup your Digital Images using Easy Photo Backup?
Easy Photo Backup contains easy to use screens which has the wizard type look. This screen helps you throughout the whole process of creating photo archive CD'S of all of your digital photos. Using this software you can choose the photos as per your requirements either all of them or the required one. You can also include a photo album which is website style on the created disc. And no special software is required to view the album created. You can simply watch it using Windows.
System Requirements for Easy Photo Backup
CD/DVD writer with speed 32X10X40X or greater is must.

WINDOWS 98/2000/2003/XP/VISTA;
RAM 128 MB;
Hard Drive space of 10 MB;
IBM compatible;
Features of Easy Photo Backup
It manages the whole process of backup of the digital images on to CD/DVD; no different CD/DVD writer software is required.

Incremental Backup is possible.

This software is the best available solution for professionals and novice users.

It gives you total CD/DVD requirement for all the photos you are taking backup of.

You can backup photos with format GIF, BMP, PNG, JPG.
Taking the Backup using Easy Photo Backup
At first you have to browse to the destinatiopn where all of yours digital photos are stored. This can be done by clicking the Choose Folder command button. After you click the button browsing window will open, select the folder which contains your digital images. Window shown in Fig.1;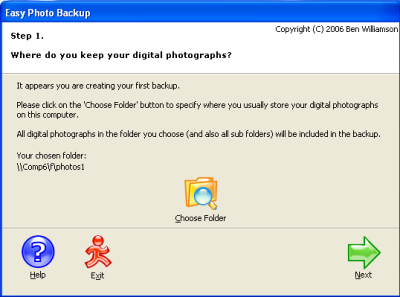 Figure.1 Files Selection for takin Backup

Next step comprises of inclusion of web style. Here you can see different styles of available photo index. Select the type of style you want. If you don't want this option check the box of the option "I do not want a photo index on my disc (Faster)". Shown in window of Fig.2;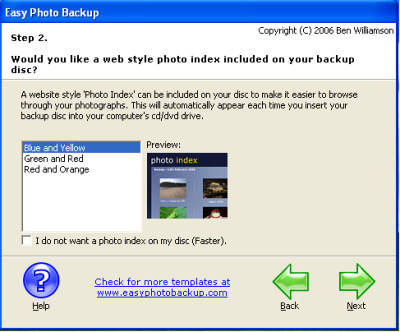 Figure.2 Photo Index Inclusion
In the next window you have to create the disc. Here you will be shown how many disc you reqire (encircled). Here you just click Create Disc Now command button. And the software will start its disc creation. Shown in Fig.3;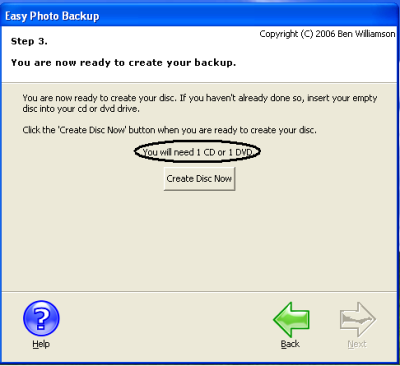 Figure.3 CD/DVD Creation 
You will surprise to know that the whole process comprises just of three steps. This is the reason why software got its name Easy Photo Backup. So don't waste your time in copying each and every of your digital image on secondary storage go for this software.