How to Backup Your Photos in Picasa 2?
At time of system crashes or reinstallation of new system in your computer vanishing of the files or folder is there. Many a times your important images or rare family photos also get vanish.Picasa is the easiest program available for photo management and backup. Picasa is not used only for managing your photo, its help you to backup and restore your entire photos and albums. When Picasa 2 is installed into your system, it first scans the whole hard drive and searches for the available photos and images into the hard drive and displays them in libraries. It supports each and every image format available today in market. 
Backing up All your photos in Picasa 2
Step 1
Open the Picas application and select the Tools option in the menu bar and now click on the Backup Pictures from the drop down menu as shown in the image 1.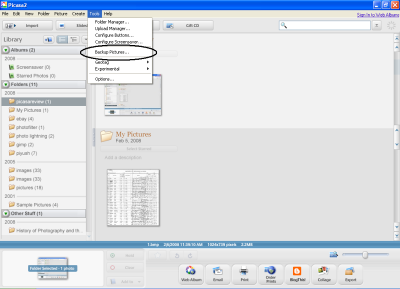 Image 1 – Backup selection option
Step 2
In the next window you will get two small wizards at the bottom, wherein you have to select the name of your backup and select the folder or albums to backup (Refer Image 2).
Click the New Set command button, suggest the name of your photos backup operation and select the backup devices such as CD/DVD, other removable media or in the same hard drive which you are using. Click Create button to start as shown in Fig.2.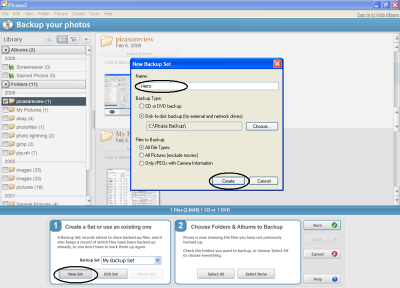 Image 2 – selection of the backup name and devices
Step 3
In the next window, select the Backup command button to start with your digital memories (photos) backup (Refer Image 3).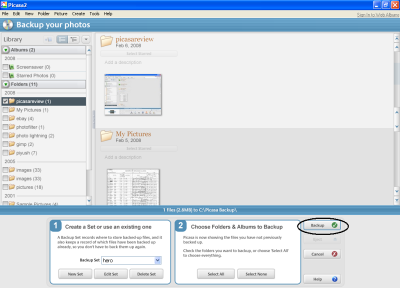 Image 3 – Start Backup Operation
Step 4
This will create the backup of your photos as backup files and folder as shown in Image 4.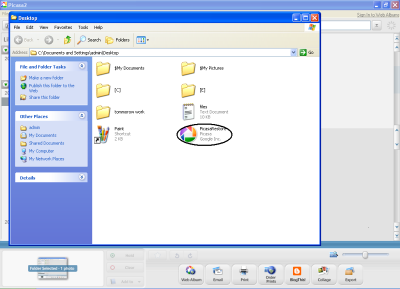 Image 4 - Backup Folders and Files
How to Restore your Photos from the backup files?
If you had taken your photos backup into some removable storage drive then insert disc that contain the Picasa backup files or restore wizard directly backed up your files from the original location from your hard drive as shown in image 5.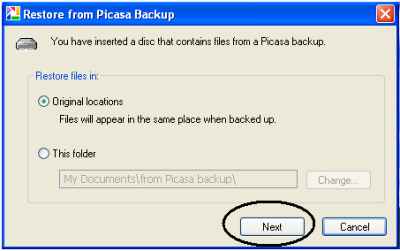 Image 5 - Restore Wizard
Press Next buttonto restore your photos. You will get the backed up files along with there paths. Click the Restore command button will restore all the files to its original location;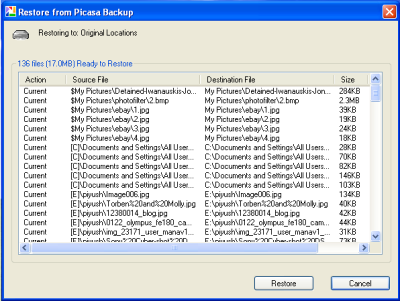 Image 6 - Restoring the Files
Using Picasa, you can secure your all the files and folder containing your important digital memories or albums and restore them by just few clicks.