How to take the backup of your data using Norton Ghost 12.0?
Symantec is a well known organization for its software's and commonly known as data security. Norton Ghost 12.0 is the software from the stable of Symantec which is specially designed for backing up of system data in times of system crashes or OS corruption. Norton Ghost 12.0 provides Automatic backup of your system, quick restore of lost files, recovering the entire computer, and optimizing back up disk space are some of the key features available in this software.  
Backup Features
It supports Full system backup – Backup everything on a hard drive or partition,

File backup search – Browser-based interface allows you to quickly find archived files.

Efficient backups – it creates incremental backups to maximize space and save time

Several storage options – Backup to any media such as CD/DVD drives, FireWire and USB devices, local or network drives and many other devices,

Remote management – Control other Norton Ghost 12.0 installations on your network.

It creates a virtual disk and restores points for restoring purpose.
Taking Backup using Norton Ghost 12.0
To Download this application click on this Norton Ghost 12.0. Install it on your system to backup and recover your files and folders.
In the opening window of Norton Ghost 12.0
select the option Run or Manage Backups,as shown in image below;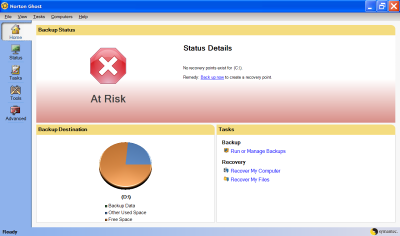 Image1 - Opening Window
Run or Manage Backups wizard gets open. There select the drives you have to backup and click the command button Run Now at the top left side, as shown in Fig.2;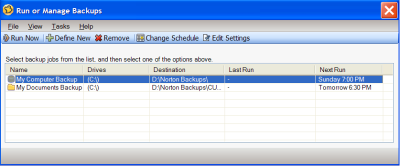 Image 2- Run or Manage Backups
A Progress and Performance window will be shown to you after the whole process is over backup of your selected drive will be created in to the target folder selected by you as shown in Fig.3;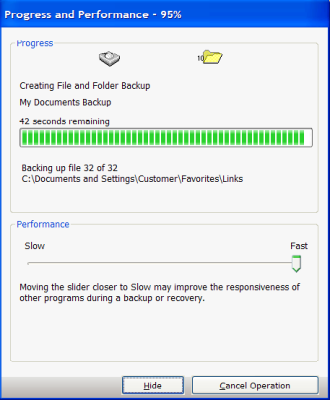 Image3 - Progress and Performance Window 
Restoring the Backed Up files
For restoring the files, select the option Recover My Files as shown in image 1 window, in the Preceding wizard clicking the option search will give you the list of backed up files on your computer. Select all the files that you want to backup and click the command button Recover Files (Refer below image).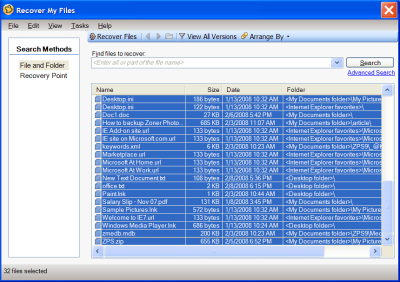 Image 4 - Recover My Files Window 
After clicking the Recover Files option, you will have to select the destination where you want to restore the files. After selecting the destination, click Recover command button as shown in image 5;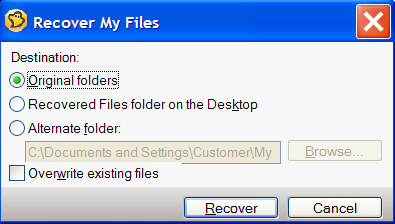 Image 5 - Destination Selection 
All the files will get restored to the destination after clicking the Recover button. 
Norton Ghost 12.0
has made the backup job so easy. The job just gets completed within few clicks, and the interface provided is also very easy and user friendly.