How to take system backup using GRBackPro?
GRBackPro is an award winning Professional data backup software specially designed for taking the backup of Windows and Windows server versions and easily solve your backup problems without much effort. It has a feature in which you can define multi backup sessions with different options. Also the integrated restore feature allows you to maintain two PCs aligned together. This software is also features many professional options. It has an integrated scheduler to start your backup automatically without your involvement. It does not require any special system requirement can work with all the new version systems. 
Backup Procedure
You can download demo version to test your backup and restore features of the GRBackPro by clicking here. Install the fresh copy on your system and get started with it.
Open the application from the shortcut icon from the desktop and follow few simple steps to backup and restore files or folders and many more. 
In the opening window, go to Backup tab and suggest the name in the Session, later select the Method of your backup types.  Select the appropriate option as shown in image below. In Temp path, select the files that you want to backup and select the desired destination for backed up files. Then click command button Backup. Shown in Fig.1;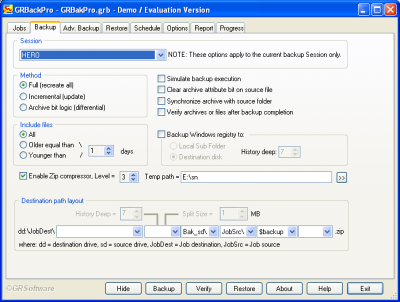 Figure 1 - Taking the Backup
You will get the progress bar of the process. After the process completes, click Exit option as shown in image below.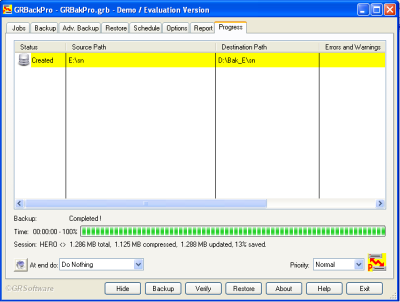 Figure 2 - Progress window
Restoring the data
For restoring the files, open GRBackPro backup utility and select the Restore tab. Select the Method i.e. the process to be performed on files. Select the Source and Destination and click Restore as shown in image below.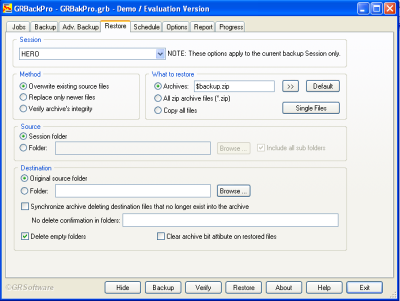 Figure 3 - Restore Tab Window
As soon as you click the restore command button, the progress window will appear. Click the Exit command button after finishing your whole restoration process.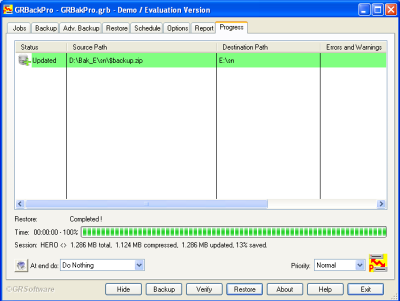 Figure 4 - Restore Progress Window
Using this application , you can allowed to backup and restore your critical data to/from network, hard drives, CD, DVD-RW, DVD-RAM, CD-RW and all removable hard drives. GRBackPro had made backup process very simple and quick just within four clicks.