Norton 360 4.0: web accessible online storage and Norton Tiki
Security and backup application Norton 360 from Symantec brings in its 4.0 version some new features. Since we are website about data backup, the most important news in Norton 360 4.0 for us is the web access to secure online storage. You can also download and search your files via the smartphones and the small application called Norton Tiki.
Articles about Norton 360 4.0
are the most readed on our website. So I hope the new short review of the Norton 360 4.0 will be useful for you. With 4.0 Symantec gives to Norton 360 same security features as we can see in Norton Antivirus 2010 or Norton Internet Security 2010. The most important security news is Norton InSight, especially Norton Download InSight. This new technology work with downloaded files reputation and it is able to check security of the just downloaded files in a moment. However the traditional analysis and heuristic method are still here.
Norton 360 4.0 has similar user interface like his predecessors, only with some minor changes. You can still see four important steps to secure your computer: antivirus+firewall, identity protection, the backup features and some tool for the computer optimization, like defragmentation or disk and registry cleaning.
How to backup with Norton 360 4.0
Norton 360 4.0
doesn't support disk images like Norton Ghost or like Acronis True Image Home 2010. Instead of this it works with selected files and folders. So you couldn't think of it as a complete backup solution. Norton 360 4.0 is rather universal application which will help you to secure and backup the most important files.
When you select backup settings from the main window, Norton 360 will show you up the four step wizard-like window. At first you will see comprehensive information about the current backup settings. Then select what files you would like to save to backup storage. For me, there is a problem and I think that more advanced users will think the same.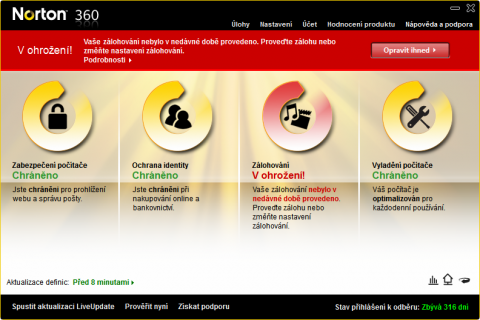 Norton 360 4.0
You couldn't select the whole folder you would like to backup. You have to prepare file types and you are able to edit their file extensions. You will be never sure what exactly is backed up and what is not. But you can also change your opinion and trust to Norton 360 that it will save all important files. There is also possibility to overlay file icons in Explorer with simple backup status mark.
Yes, you can also click the link to include or exclude some files or folders and the files within it shouldn't be categorized by their types, but it is not clear solution for me. I think this will not change in future version because simply it is the Norton 360 philosophy.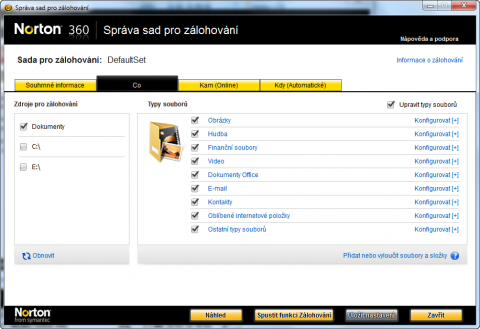 Norton 360 4.0
Where to save the backup with Norton 360 4.0
Your backed up files and folders could be saved to selected internal or external discs or USB flash, but I think you will prefer secured online backup storage. When you save the files to it, they will be much more secured than on your external disc. It can be stolen or burn down with your house, but the most important files in online backup storage will still be there. Backup process you start automatically, so you can set it up only once and then forget on it.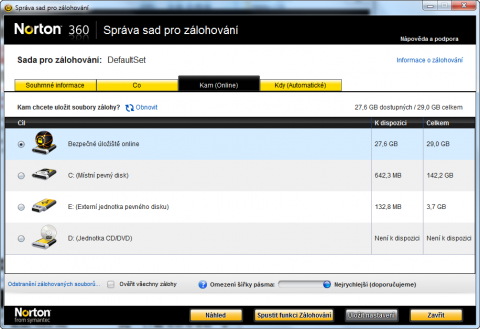 Norton 360 4.0
Web access to online storage
Many users cried that they couldn't see what exactly is in you online backup storage saved by Norton 360. There is good news. Symantec now offers easy way how you can see what is in your online backup. Just go to nobu.backup.com and log in with your username (e-mail address) and password.
You will see all your computers connected to the backup storage and you will be able to browse your backups and search the files. This drastically improves usability of Norton 360 4.0
and Norton Online Backup (the standalone tool).

Norton Online Backup web access
Web access to your online backup storage could be also used to share large files. Just upload the using the Norton 360 or Norton Online Backup and then click the button on the web page. There you can select browsing files, but also sending them via e-mail. Symantec will send the link to the recipient and he or she will be able to download the selected file. It is very simple. You can also set the expiration for the special download link.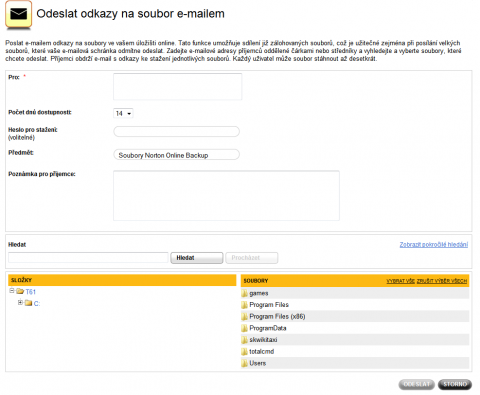 Norton Online Backup web access
Norton Tiki
Together with Norton 360 4.0 and web access to online backup storage comes Norton Tiki. It is small application for iPhone and Android platforms which will access your backup from the smartphones. It is not backup application for your phones, it just works like the browser for your online backup storage. You can also download the selected files using it.
Norton 360 4.0 is useful software for home users who would like to have their computers secured in all ways. The biggest changes in backup features are outside the application itself. The web based access to online backup storage is the most important new feature in my eyes.
With Norton 360 4.0
you will get 2 GB of the online storage for free then you can buy more space. However the Symantec and Acronis prices comparison tells that Acronis' online backup storage is cheaper. So I recommend trying which application you will like more.
Note: I'm sorry for the Czech only screenshots, I don't have English version of the Norton 360 4.0 installed.