One snap backup of your data using Snap Backup
Snap Backup is one click backup program provided to us to secure our important files in cases of system crashes. It supports all the available OS such as WINDOWS, UNIX, LINUX, MAC OS etc. Frequent backing up and archiving of important data is made easy by this program. You can back up your data on external storage devices also such as USB Drives, USB Hard Drives etc. The created backup files are stored in zip folders which can be opened by any popular programs available for zip.
System Requirements
Open VMS, Mac OS X, Mac PPC, Linux, Unix, WIN 2003, WIN XP, WIN 2000, WIN NT 4.x

JAVA
Taking the Backup

Step 1
Open the software, in the opening window click the command button Add Folder as shown in Fig.1;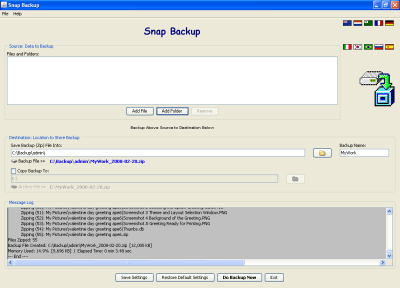 Figure.1 Opening Window
Step 2
After you click the Add Folder command button select the folder to be backed up and click the command button Add to Backup List. The folder gets added to the list. As shown in Fig.2 and Fig.3;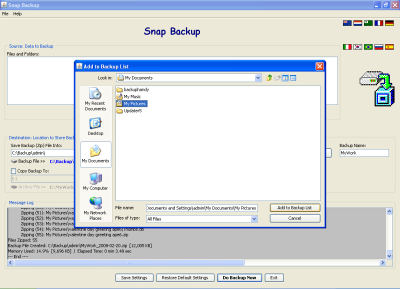 Figure.2 Add Folder Option Window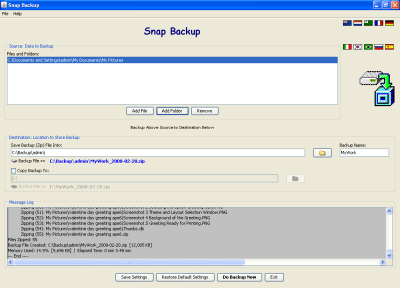 Figure.3 Folder Added to the List
Step 3
As you click Do Backup Now command button the backup progress bar pop's up as shown in Fig.4. When the backup is finished your data backup zip folder is created in the destination selected by you for taking the back up at.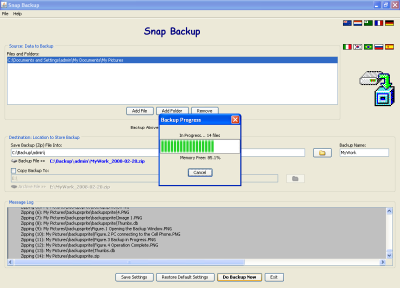 Figure.4 Backup Progress Dialogue Box
Snap Backup has made backing up the data just a snap away, that is just in one click whole of the selected data is backed up in the selected destination in a zip folder. 
Features of Snap Backup
Backup within one click.

Settings are configurable.

Supports all the platforms

Provide multi language support.

Available free.