SugarSync Beta – Powerful and Real-time Backup Program
SugarSync Beta is a program that revolutionizes the way you backup your documents, pictures, music, videos and important data collection. With the help of the most effective real-time synchronization technology, all of your files are automatically synchronize across your PC, Mac and mobile phone so you can access them from any where using web browser and phone.
How to Backup with SugarSync Beta?
You need to register with the SugarSync Beta version prior to backup and access this program, SugarSync is currently an invitation-only - Beta service. After signing up, Download this application and install it on your computer. I had eagerly waited for 5-6 business days after signed up to avail this program. And after that I came to know that this is the exactly program what I wanted. Thanks to founder of the Backup HowTo and Photo HowTo, to suggest this topic.
Select the files and important data
This program will backup your files to your secure personal website. Your files are continuously backed up to your secure, personal SugarSync website provided by SugarSync Manager. Even you are trying to edit your files on your computer, and changes are automatically backup so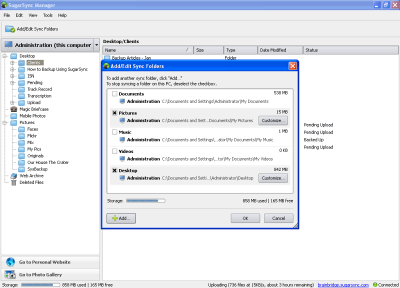 Image 1: Add/Edit Sync Folders
Using this View option, select the Go to Personal Website and Go to Photo Gallery to view all your backup data and document. This option will pop up the window and takes you to your personal web wherein you can manage your files and Edit your Photo Gallery.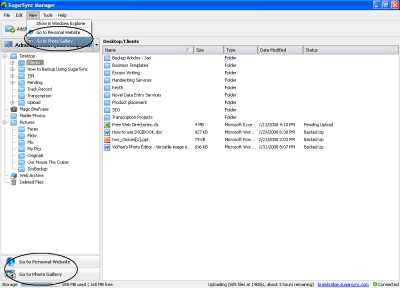 Image 2: View Option
Manage your files
Using this File manager option, one can easily manage their files as simple as our desktop application and can easily remove, download and edit files and folders. In sort I can say that it's our movable computer data storage.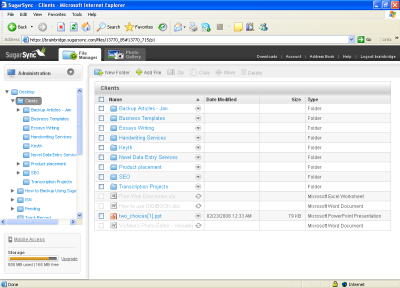 Image 3: File Manager
Photo Gallery in SugarSync Beta
Photo Gallery is automatically collect your entire photo and organized into albums for you. When you backup your photos with SugarSync, you get the peace of mind that your precious memories are protected.
In addition with this, your photos are automatically organized into dazzling online photo albums and you can share and download.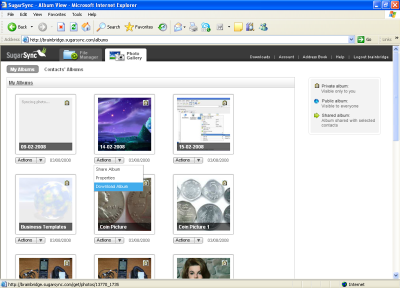 Image 4: Photo Gallery
How to recover your data?
It's really as easy to open the sites and download those corrupted files. Your data is secure and you can easily restore in case of your computer is stolen or damaged; you can recover your files without any pain. No external devices required to backup and restore your data.
SugarSync provides one service for both backup and sharing your photos.