Backup Internet Explorer favorites with IE7Pro
IE7Pro is a useful tool for users of Internet Explorer web browser. It adds improved download manager, faster pages loading, improved management of sessions and tabs. IE7Pro comes with Easy Homepage function which adds simple way how you could navigate to frequently visited pages from your homepage. It is similar to Speed Dial function in Opera browser. IE7Pro also comes with useful backup function for your Internet Explorer favorites.
You could back up settings of IE7Pro too. IE7Pro could be used to synchronize your favorites between two or more computers with easy. IE7Pro works well with Internet Explorer 7 and with Internet Explorer 8 beta too. You could download it from www.ie7pro.com.
How to back up the Internet Explorer favorites?
Install IE7Pro. Right click its icon in Internet Explorer statusbar and see its context menu.
[img:01]
Click Online Services|Login.
The Login window will appear. Click the Register User link.
[img:02]
Provide your details like name, password and email. Accept the license agreement and click the OK button.
IE7Pro will register you and immediately offer backup of your settings.
If you are already registered, simply use the login window.
Use the Online Services|Upload Bookmarks function to online back up your IE favorites to the server.
How to restore Internet Explorer favorites?
Restoring of your Internet Explorer favorites is easy. Just log in and use the Online Services|Download Bookmarks function. IE7Pro offers a simple management of backed up bookmarks. You could show it up using Online Services|View Bookmarks function.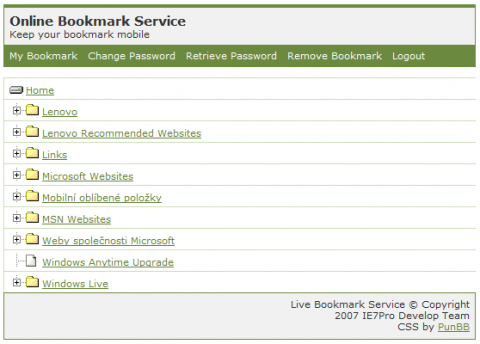 IE7Pro
You could set the IE7Pro up for automatically synchronizing your bookmarks. Just show its Preferences window, click Online Service and check up the Sync Bookmarks automatically option.