Online Backup Services
Everyone knows how important it is to back up the data that you store on your computer.  Who hasn't heard the horror stories of someone who lost years of project work because they failed to back up their work?  Backing up is all well and good, but what do you do if you use more than one computer or have a busy schedule and often forget to back up your data? One method of backing up that has been growing in popularity lately has been online data storage.  Online backup is quickly becoming one of the most popular ways to back up data.
Pros of Online Backup Services
Many people know that the positive aspects of online data backup and storage far outweigh the negative aspects of this type of data backup service.  Obviously, the biggest "perk" to using online data backup and storage is that you can work from whichever computer you wish.  When you use an online data backup service, you upload your data to an external server and then you can access that data from any computer!  You can work from your office, your home, or even a cyber café-whichever option is the most convenient!
Another significant perk of online backup is that you can share your data with other users who can add or correct your data, no matter where they are.  Much like sharing a hard drive, users can share online data backup and storage space to see what their project partners are working on and to contribute to the project.
Cons of Online Backup Services
Of course, there are drawbacks to online backup.  When you use a data backup service, you are subject to their server download and upload times.  What's more, if the server for your online data backup and storage space goes down, you might not be able to access your data when you need it most.
Another drawback to using online backup is the risk you take with your backed up data being lost or accidentally erased. Accidents do happen from time to time and server space is not as reliable as a portable hard drive or a disk.  With some services, making sure your backed up data is still in place is entirely your responsibility, so you need to be careful when it comes to choosing an online data backup service.
Mozy
Mozy.com is an online backup service based in American Fork, Utah and is an EMC company.  Mozy promises that your online data backup and storage is encrypted and that when you save a file that is already saved in your account, only the parts of the data that you have changed are backed up.  This means that you will always have your most recent version of your files available to you via the Mozy servers.  The Mozy Home account starts at just under five dollars (US) per month and the professional account offers two different licenses, the desktop license that starts at just over four dollars (US) per month and the server licenses that start at around nine dollars per month.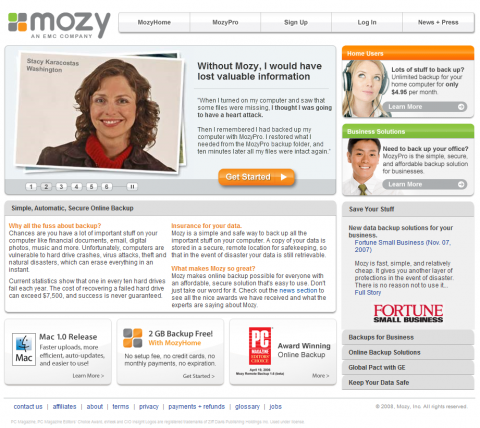 Mozy
Mozy offers a customer service via online chat and the telephone and they have technical support available all the time.  In addition to 124 and 448 bit encryption, Mozy offers automatic backup of regular files and Outlook files.
Backup.com
Backup.com is a Symantec company that offers personal online backup plans starting at just under five dollars (US) a month (for two GBS) and professional online backup plans beginning at just under twenty five dollars (US) a month (for ten GBS).  Backup.com offers security that the company describes as being "bank level."  The security system encrypts your data and only the people who have your password are allowed to access it. They also offer a download that automatically backs up your data according to a schedule that you set.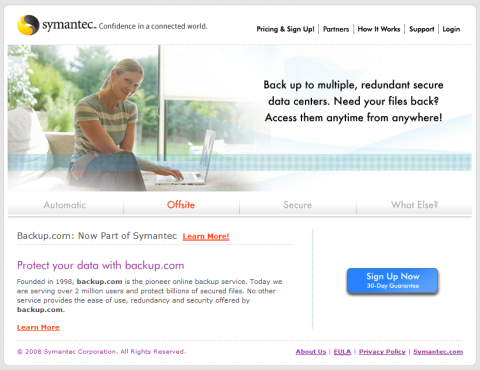 Backup.com
Whether or not you download online data backup and storage software offered by Backup.com depends on your feelings for the Symantec Company.  If you are a Norton anti-virus fan, you will probably enjoy the Backup.com software and automatic data backup service.  The price is more than reasonable, especially when you consider how much information can be stored in a gigabyte's worth of space, but Symantec's products have a reputation for being slow loading and taking up a lot of your computer's resources.
EVault
EVault is a Seagate company that offers online backup for businesses of all sizes.  This company offers online backup as well as regular "disk-to-disk" backup.  EVault has been around since 1997, so it is safe to assume that their services have been built and changed as online data backup and storage has evolved.
EVault offers data backup service packages that include constant customer support, an automated back up schedule and Tier 3 and 4 data centers for your backed up data.  The website for this service promises that their data backup services are priced "based on your affordability" (quoted directly from the EVault Inc. website) but they offer no proof of this.  They do, however, offer phone numbers to call for more information so that looks promising.  To purchase the online backup products offered by EVault, you can either e-mail their sales department or call them directly.  There are phone numbers for offices in the United States, Northern Europe and Southern Europe.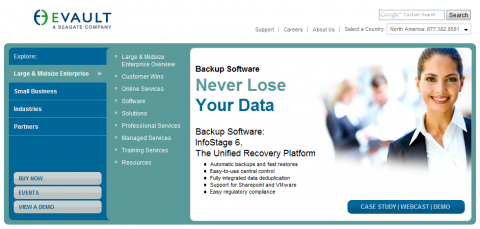 EVault
There are plenty of options available if you are interested in online backup.  When it comes to data backup service, online data backup and storage is certainly one of the most convenient options.  You can download software that backs up your system, or you can choose simpler plans like those offered by Mozy.  Backing up your data is just good sense and it is critical to making sure that you are able to function properly in the event of a hardware failure or a computer glitch.  Finding the right online backup service might take some time, but it's time that will be well spent.
Other online backup services
There is much more online backup services. You can find more information about the in this articles: