How to easily backup your Twitter, Facebook, Gmail account and more with Backupify
We all have many accounts on the Internet. We use many social networks, Gmail account, Twitter, Blogger, Flickr and other services. Have you ever think what could happen if these services will go down and some of the account will not be possible to restore? Your solution for this problem could be Backupify.
Backupify is an easy to use online backup service which supports Facebook profile and fan pages, Flickr, Gmail, Google Calendar, Google Contacts, Blogger, Google Docs, Google Sites, LinkedIn, Picasa Web Albums, Twitter and Zoho.
So using Backupify you can backup all your data from the social networks, online shared photos, e-mails, documents, and some websites too. Backupify offers one year trial period and two paid plans. The Backupify Pro 100 offers 20 GB storage and backups account up to 5 users on Google Apps Domain. The second plan, Backupify Pro 500 offers unlimited storage, supports 10 users on Google Apps Domain and is open to add additional users for 3 USD per each.
How to backup your Twitter or Facebook account using Backupify
Go to www.backupify.com, register and sign it to the service.
Click the Settings tab and check the Add Service section.
Select the service you would like to backup (Facebook, Twitter Gmail...) and click the Add link.
Now you have to set up and configure Backupify to work with the desired service. For the Facebook, for example, you have to log in and authorize the Backupify access to your account.
And this should be all you have to do. Backupify will start backing up your selected services. Come back again in a few days and check the result.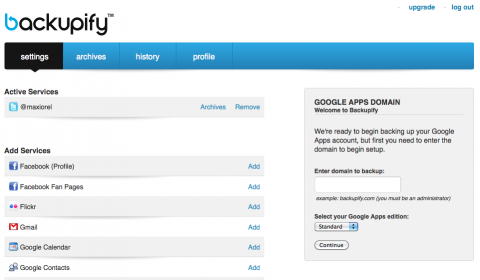 Backupify settings
How to see backed up accounts from your Twitter or Facebook
As I currently see, Backupify seems to doesn't support restoring your data. But it allows you to browse the backed up history. For example, I use Backupify for my Twitter account, so when I login I go to the Archives section and click my Twitter account name. Now I will see the list with all my Twitter status updates, messages and other activities. All this data can be exported to the PDF also. The history section provides some statistics about archived items.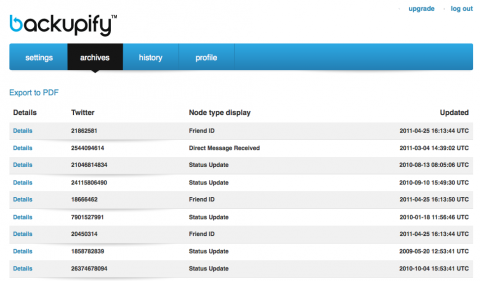 Backupify - Twitter backup
Backupify is interesting service which will allow you to backup your important data from all the social networks you use. The lack of restoring options is not the problem of the Backupify directly, I think. You couldn't post hundreds or thousands posts to the Twitter or Facebook. But Backupify gives you possibility to browse the archive of all your posts. Give it a try.