How to backup your Internet Explorer Settings Using BackRex
Many times we face problems with the browser or plug-in and to fix this we need have neutralize the browser. Neutralizing your browser means deleting cookies and changing the security settings back to defaults. Even if you are able to restore Cookies and Favorites with Internet Explorer, however its time consuming to restore your browsers back to your desired configuration. Using BackRex Internet Explorer backup you can simply backup this in few minutes and can even set the schedule backups. This application as an additional feature wherein you can transfer your existing IE browser settings like cookies and favorites to a new system.
BackRex Internet Explorer Backup the settings as per your requirement. It doesn't back up plug-ins or cached files.
The following backup is performed automatically by using BackRex Internet Explorer. 
Security zones

User customizations

Cookies

History

Proxy & connection settings

Auto complete passwords

Favorites

Dialup accounts

 
Back up Process
This application included a wizard that helps you step by step as per the task you want to perform.
Step 1. Click on the icon on your desktop or your start menu, it will ask you to choose between backup, restore or scheduled backup options. Click on the backup option as shown in below figure 1.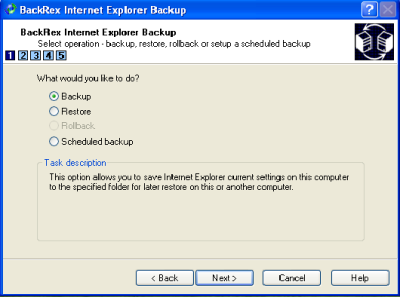 Image 1 
Step 2. Now click next, an applet will pop up showing the IE icon, select the IE icon by tapping it and click next. Now locate the path where you have to backup your files. This application has important features wherein you can remember the backup folder. Also you can compress you files protect the file by using password. Refer the image 2.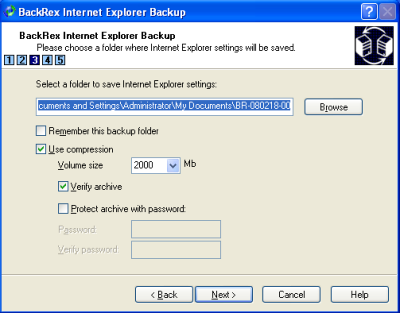 Image 2
Step 3. After clicking next new applet will show the list of settings that it is going to back up. Click next; the back up process will start. Once the back up process is completed it will show the location where you have saved your backup file. Now click finish as shown in the image 3.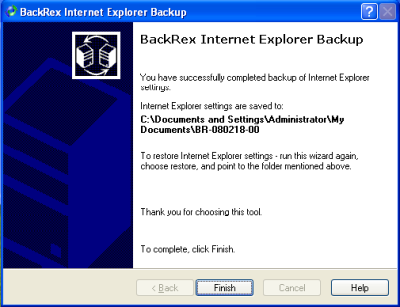 Image 3
Restore Process
Restore process is simpler than the back up process. Click on the BackRex Internet Explorer icon. Opt for the restore option and locate the path wherein you have saved your back up file as shown in the image 4.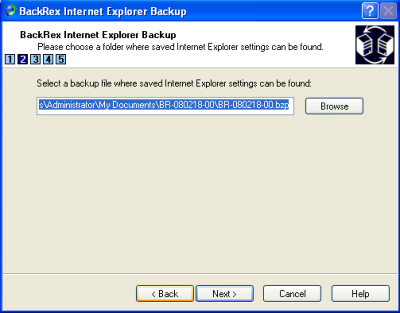 Image 4 
Now-a-days its easy to upgrade the software or download any software, there is a high possibility wherein you may delete your custom browser settings; however with BackRex Internet Explorer Backup you can easily backup and restore your IE settings any time.