NasBackup: reliable backup to a network location
Network backup is one the the most reliable solutions I think. If you have a NAS server or a classic file server anywhere in your network, you can schedule your backup using open source utility called NasBackup.
The question is: why I should backup to a network storage instead of copying my files or disc images to the externals hard disc drive? The answer is simple. Network location could save largest amount of your data and could be used by more computers at the same time. Especially the NAS servers are great for a small home network I think.
Every better backup software should be able to copy its backup to a network location. But if you need really simple utility able to backup your files to the network storage, try NasBackup. This tool is build using Perl upon the powerful rsync backup utility and offers a simple user interface for Windows users.
How to work with NasBackup?
The NasBackup software has two parts: server utilities and client. Just go to the download section and download its binaries. The installation is typical for all Windows software – just check the default values and click the Next button.
As soon as the program starts, you will see a simple Windows with all controls at once. Searching for the settings is not necessary. Everything is present on one place.
So at first, browse through the directory structure and select the folder you would like to backup. Click the >> button and move this folder to the Selected Folder to Backup section. You can repeat this step for all the folders you would like to backup.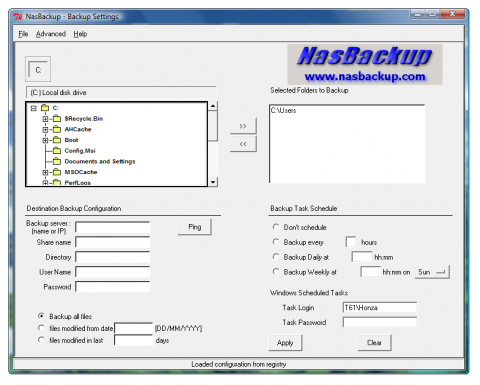 NasBackup
Now provide some information about the backup destination, like IP address, share name, directory, user name and password. Don't forget to schedule you backup interval. NasBackup offers hourly, daily and weekly based backup process.
Additionally, you can filter what will be backed up. If needed, use the files modified options. If needed, provide Windows Scheduled Tasks information and click the Apply button.
Note: If any of the options seems to be disabled, you can enable it using the Advanced menu option.
So, that's all. NasBackup works in set and forget style. It seems like very useful utility for the small office and home networks.