First and only backup for iPhone OS 3.0
A few days back we could see a new operating system for the iPhone and iPod Touch. This new iPhone OS 3.0 will be presented in a new iPhone 3GS and is available for current iPhone 3G owners for free. If you are using the iPod Touch, you can upgrade its OS to this new one for a small fee. But what about the data backup? There is about twenty competitors in iPod backups market, but the only one has the support for iPhone OS 3 as I know. Read more about CopyTrans 6 and CopyTrans Photo.
WindSolution company announced a few days back (a day after iPhone OS 3.0 was released) that their flagship products will fully support the new iPhone and iPod Touch firmware version 3 and devices using it. This is a great news for all iPhone/iPod users on Windows because WindSolution's CopyTrans & CopyTrans Photo are able to work without iTunes installed.
The new limitations in Apple's OS 3.0 have rendered all previous backup solutions inoperable. However the new version of CopyTrans and CopyTrans Photo is working again.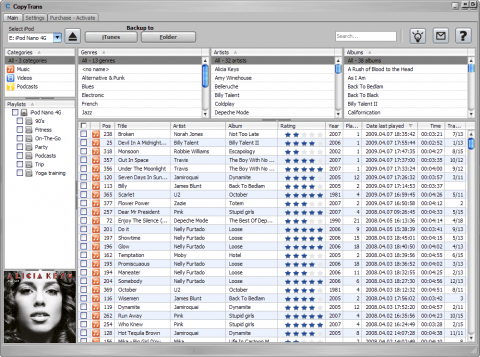 CopyTrans
Core features of CopyTrans:
Compatible with all iPods, the iPod Touch and iPhone
Transfer music and videos, audiobooks, tv-shows and podcasts directly to iTunes or to a specific computer folder
Recovers playlists
Preserves song order within playlists
Import ratings, play counts and all major music tags
Full support of artwork transfer
Advanced file renaming capabilities
Incremental backups which prevent creation of track duplicates
7 days a week customer support
Core features of CopyTrans Photo
Compatible with all iPods, the iPod Touch and iPhone
Transfer photos from iPod, iPod Touch and iPhone and back
Transfer full resolution photo to iPod Touch and iPhone
Built in slideshow viewer
7 days a week customer support
More information about CopyTrans and CopyTrans Photo can be found at www.copytrans.net/copytrans.php and www.copytrans.net/copytransphoto.php.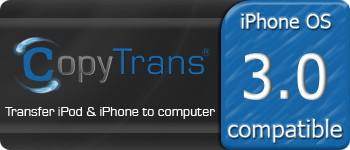 CopyTrans for iPhone OS 3.0
Source: Press Release