Online backup for Firefox Bookmarks using Foxmarks Bookmark Sync
The My Foxmarks site along with taking the backup of bookmarks also provide us with different services such as, editing the bookmark, deleting the bookmark, creating a bookmark, drag and drop the bookmark, and previewing the book mark. Also there is a search feature which helps you to find within the bookmark. Looking at this you will feel that this software is better than the inbuilt bookmark organizer that comes with the browser. 
Taking the Backup of bookmarks using Foxmarks Bookmark Sync
When you are installing the My Firefox tool you have to create an account at Foxmarks. When you open the My Foxmarks tool as shown in Fig.1, you will get a login window as shown. Enter your user name and password the same you have given at time of login.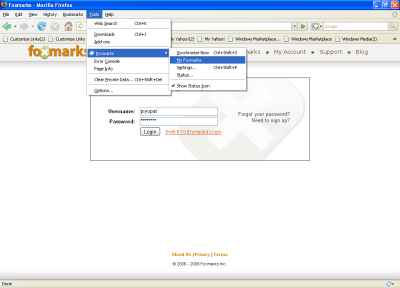 Figure.1 Selection of the Tool
Now for taking the backup go to Foxmarks Settings from the Tools menu. After the setting wizard opens click the command button Synchronize Now. As shown in Fig.2;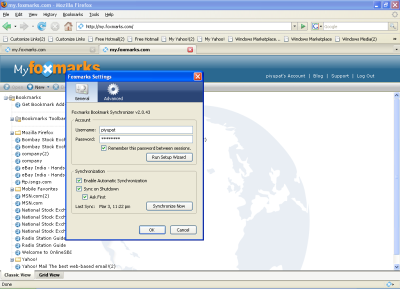 Figure.2 Selecting the Synchronize Option
After you click the command button all the bookmarks will be backed up on the Foxmarks server online. If you have your own server and want to down load the book marks on your own server then, go to Foxmarks Settings and select the Advanced option as shown in Fig.3;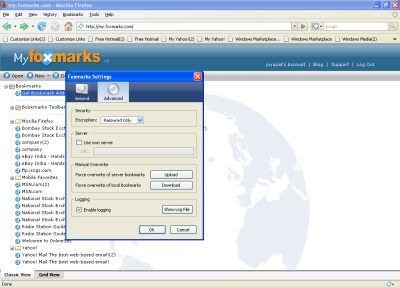 Figure.3Selecting the option for taking the Backup on your own server
In the Advanced wizard enter the URL of your server and click Ok. After you click Ok all the bookmarks will be downloaded to your own server. For again recovering the bookmarks after the whole new installation of new system you have to again go to the Foxmarks Setting window select the advanced option and click the Download command button. All your bookmarks will be restored. 
Online backup of your bookmarks using Foxmarks is easy and secure task. It will save your time of manually saving the bookmarks.