Paragon Partition Manager 9.0 – Advanced partitioning and Hard Disk Management
Now a days advance computers comes with hard drive space more than 250GB in which all the application with windows OS are pre installed. The hard drive space is pre-configured into many partitions or a single partition containing whole disc space. In windows there is no any easy way for creating the partition with the supplied tools. Before performing any partitioning operation, you need to backup your critical disk partition layouts and system state data, critical application data. The backup wizard of Paragon Partition Manager 9.0 will assist you to save all your important data. 
About Paragon Partition Manager 9.0
User can download the Paragon Partition Manager Software application from the Paragon Software website www.paragon-software.com.
Partitioning of disc drive is very advantageous as we can divide the data in the available disc space by sorting it into two type's data files and system files which makes it easier for us to retrieve the wanted file easily. Paragon Partition Manager 9.0 helps us to achieve this very easily. Also many times due to system crash or OS corruption, we have to take the backup of our important data and this application helps us in doing this too.
Many times if we want to install other OS in our PC such as Linux or say Ubuntu so using Paragon Partition Manager 9.0 we can create the hard drive partition and can place the new OS in different partition. De-fragmentation is also possible using this software so that we can free up more space. The wizard available on this manager is full XP style and user friendly so that anybody can use Paragon Partition Manager 9.0 without facing much more problems. 
Paragon Partition Manager 9.0 is award winning manager which provides us with reliable and easy hard drive partition and full range of hard drive management. We can hide, backup, restore, merge, convert our partitions easily that too without any data loss.
Features of the Paragon Partition Manager 9.0
Operation performed: Format, Create, delete, Unhide or hide partition, Set Inactive or Active partitions.

Can copy and move the partition of any file system very quick and done using sector by sector mode. Change of partition labels and assigning of drive letter also possible.

Can convert between two file systems.
Merging of hard drive partition also possible.

We can also change Integrity of the file system.

Can convert between types of partitions.

Can support large hard drive space up to 500GB and treat bad sectors.

Provides support for SCSI, S-ATA (SATA), P-ATA (IDE) hard disks.

Supports following media, USB 1.0, Jazz media, USB 2.0, FireWire IEEE1394, and ZIP and FAT32, Ext3, NTFS, FS, HPFS, FAT16, and Ext2 FS file systems. 

Recovers the CD using a unique interface which comes in XP style so that we can also restore under Linux or DOS.

Contains special wizards for Creating, Formatting, Deleting, Copying the Hard Drive, Copying the Disc Partition.

With the help of New OS Wizard you can prepare new hard drive for OS installation.

 
Install this application to your system and enjoy with magic of partitioning. Select the different kind of the Partition actions as shown image below.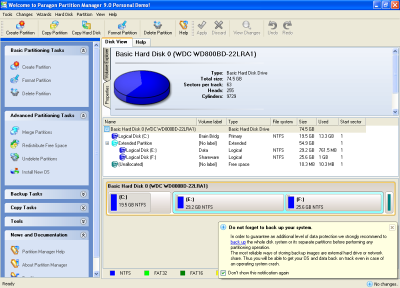 Image 1 - partitioning Actions
Paragon Partition Manager 9.0 –

Backup Features
Using backup wizard, users can backup system state and critical data to a local system disk or network disk prior to performing any critical partitioning operations.

The Reminder of Initial Backup appears on program startup, recommends to backup system state and your critical data before partitioning operations.

Can manage more than one OS on any system.

Can recover entire disc, can roll back the uncompleted partition operation.

File Transfer wizard restores all the files and folder available separately.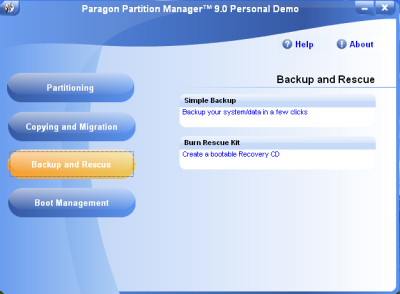 Image 2: backup and rescue Actions
This software is easy to use and can be downloaded using the link mentioned above. However to perform partition operation it's mandatory to purchase this software. There is no trial version available to use this software.