Taking data backup using Second Copy 7.1
Second Copy is backup software produced for all the versions of windows available. It can backup your system data, personal data to different directory, computer, network, or disk. The source files are monitored by this software and the changed files are updated. The backup process runs in background that to without any interaction of user. 256 bit encryption of data is also possible using this software. 
System Requirements for Second Copy 7.1
IBM or Pentium compatible PC with speed greater than 1000 MHz.

Hard Drive Space of 10 MB

RAM 64 MB

If backup is taken on CD/DVD then CD/DVD writer.
Features of Second Copy 7.1 
Compatible to WINDOW VISTA

AES encryption till 256 Bit.

Supports FTP.

Compression is quiet enhanced.

Notification provided with help of Email.

Spanning Disk available.

Synchronization available in two ways.

Auto Schedule Copying.

Can archive up to 25 old versions.
Taking Backup using Second Copy 7.1 
In opening window you have to open the file menu. Select the option New Profile then the Second Copy Wizard is opened. As shown in Fig.1; 
Figure.1 Opening Second Copy Wizard
You have to select the setup option provided in Fig.1 and then click next command button. In the next window you have to browse the file you want to backup, as shown in Fig.2;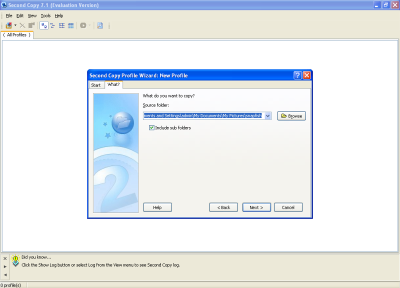 Figure.2 Backup File Selection
In the next window you have to select the destination where the backup should be taken. As shown in Fig.3;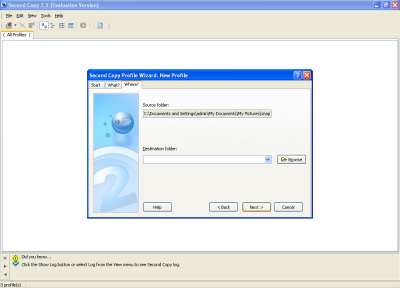 Figure.3 Destination Selection Window
After you select the destination, in the next window you have to select the schedule at what time the backup profile should be executed every day. As shown in Fig.4;
Figure.4 Scheduling Window
When you apply schedule then you have to click the finish command button in Next window. Then you can see the icon of the Profile you created. If you want to run the backup as soon as it is created then double click on the profile icon. Or the backup operation will take place as per the schedule.
After the operation is executed everyday the files are backed up in the destination you have selected. If you want any of the copy go to the destination which you selected.  
So Second Copy is very user friendly software using which safe backup of user data is ensured.