Easy Firefox Backups With MozBackup
Mozilla Firefox is a very popular and stable web browser that gave Microsoft a run for their money (Internet Explorer) when it first hit the scene. It does everything a web browser is expected to do in this Web 2.0 era and a lot more too.
When surfing the web, you'll eventually collect a plethora of bookmarks, history, saved passwords, extensions, and more, all items that you'll want to backup. Bookmarks are especially important to backup if you have a lot of favorite web pages that you visit often.
And Firefox has no problem saving your passwords to your favorite web sites so that you don't have to keep typing them in over and over again. It's important to keep a backup of all your Firefox goodies (bookmarks, extensions, et al.) in case you need to migrate to a new computer.
It's belaboring to perform your Firefox backup manually. Fortunately, there is a lightweight program that can perform a backup of all your Firefox bookmarks and settings. This workhorse program goes by the name of MozBackup (download here), a free and very useful utility.
Backing Up Firefox With MozBackup
MozBackup makes Firefox backups very easy, as it uses a handy wizard to walk you step-by-step through the entire backup process. After installing MozBackup, you'll see a welcome screen. Hit the Next button and MozBackup will ask you whether you'd like to "Backup a profile" or "Restore a profile"; choose "Backup a profile".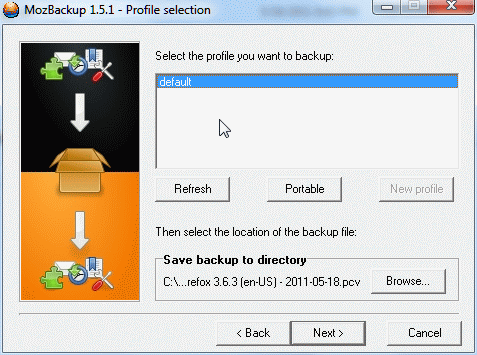 MozBackup - tool for backing up the Firefox profile
On the next wizard window, choose the default profile in the list and select a folder for your Firefox backup to live in. MozBackup will ask you if you want to password protect your backup when you press the Next button.
The final wizard screen allows you to select exactly what you'd like to backup in Firefox (bookmarks, history, saved passwords, extensions). Every item is selected by default but you can pick and choose. Hit the Next button and let MozBackup do its thing.
MozBackup To The Rescue
Mozilla Firefox is an awesome web browser. MozBackup backups your Firefox bookmarks and settings without making the whole process a hassle. It's a sickening feeling to realize that a piece of malware has wiped out your hard drive along with all your favorite Firefox bookmarks, saved passwords and other web miscellany. Don't lose all your web browsing data: be sure to always keep an up-to-date backup of Firefox with MozBackup.